Nevsail Watersports & Adventures
Watersports & Land Adventures for All 
The Young Man and the Sea
July 28, 2010 in Kilkee | Tags: County Clare, Ireland, Kilkee, Nevsail Watersports, Sons, the Atlantic Ocean, the Sea, West of Ireland
Waves and a seaweed whip – what more does a boy need?
Here is a boy who, even after a winter of taking private swimming lessons to prepare for his summer in Kilkee, still didn't like to get his face wet, let alone put his head under water!
Now he spends hours in the sea playing in the waves and riding them with his boogie board; looking for, and even picking up, marine life at the Pollock Holes; using seaweed as a toy; exploring the rocky ridge called Tucker; observing the changing tides, crashing waves, rock formations and wildlife around the cliffs; and in general enjoying a life near the sea. Now I am even hearing enthusiastic talk about his plans to surf one day… a prospect I am not as enthusiastic about!
Much of the new Eoin, I credit to his time spent this summer at Nevsail Watersports Summer Camp . Thanks to Nevsail, Eoin is now willing to spend hours in the wild and cold Atlantic Ocean, both at the camp and on his own, afterwards.
In the camp, he has had the opportunity to try his hand at such watersports as kayaking, canoeing, boogie boarding, snorkeling and more – and has even spent some time building a raft! The enthusiastic young instructors at the camp have been great about encouraging this shy, hesitant boy to try activities that he would never have attempted otherwise and their kindness and sensitivity have made him feel welcome and comfortable in the camp.
Eoin's daily explorations around the bay of Kilkee and his experience within the camp, have made him, not only more confident and comfortable with the sea, but more confident in his own skin.
This makes every minute I've spent squeezing him into, and prying him out of, his wetsuit – and then properly cleaning it after each use – well worth the effort! Click Here to see this blog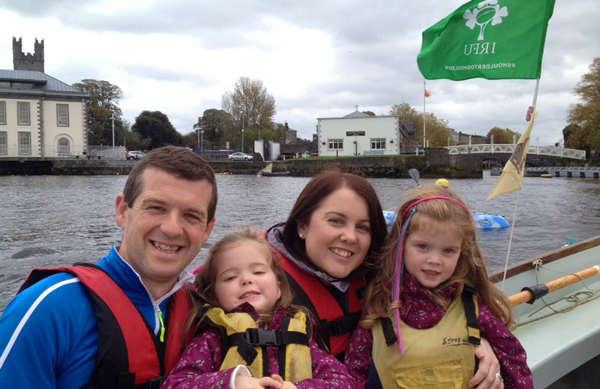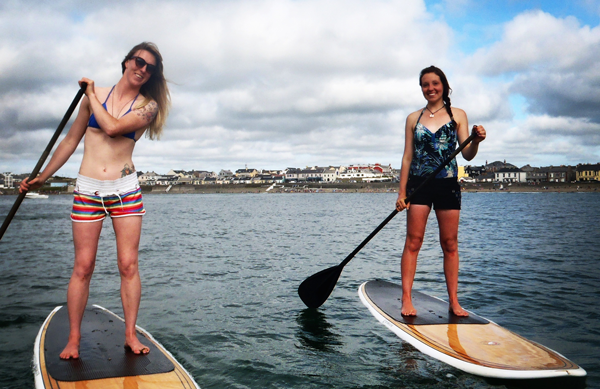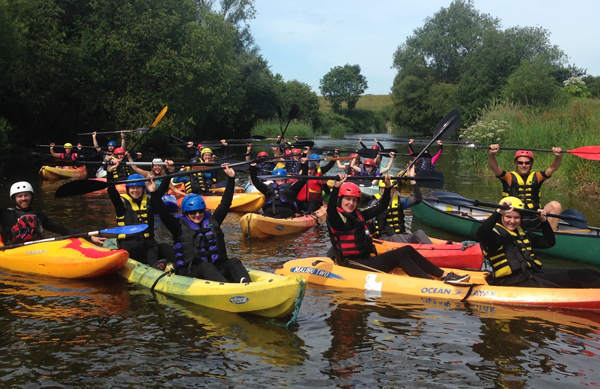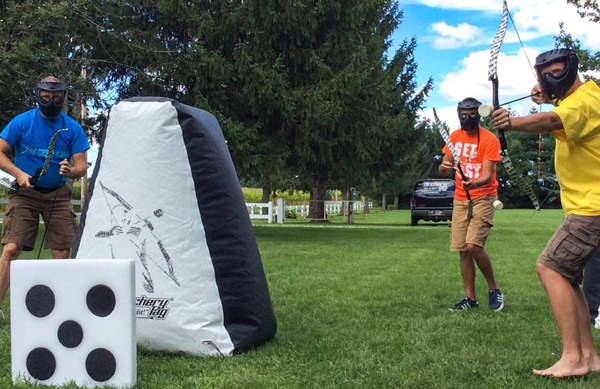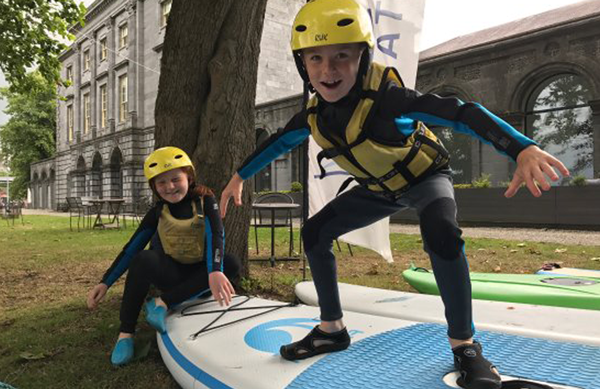 Limerick City Kayaking Tour
I recently booked a Limerick City Kayak tour for myself and a group of friends. I had been meaning to try it out for a while and the recent heatwave was just the push I needed! Dave and the team were great and tailored the tour to what we were interested in (some very competitive kayak water polo with a little bit of history thrown in!). It was such a lovely way to spend a sunny evening outdoors without having to leave the city, I would highly recommend it!
Great Fun
We used Nevsail for our work sports day three weeks ago. It was so much fun. There was a choice of activities on land or on water. I did the water activity which included kayaking on the River Shannon, playing games etc. It was great fun and I would highly recommend it. The land activities looked like good fun too. We had a group treasure hunt after the water activities and we had to use an app to find clues. It was great craic and a really enjoyable sports day.
Thomond Park Abseiling
I would like to take this opportunity to thank Dave and Owen for this mornings activity. The guys are very good at there job and made us all feel very comfortable and safe. They ran down through the safety instructions with us in our groups. I would totally recommend them for these activities.
Exceptional experience and Instructors
We stayed for a week in Kilkee and did a lot of windsurfing and surfing at Nevsail Watersports during the summer. We had very enjoyable day lessons for complete beginners, and despite being the world's worst surfer, I still had a lot of fun and definitely plan on trying it again in the future. I enjoyed every minute of it!
Very good value for money, would definitely come back to the same place and take the surf classes!
The staff were always super positive and enthusiastic and instructors were always helpful and gave you a lot of information about the beach and the nature of surf and instruction on the water was exceptional. I can now do so much more and learnt a heap.

An ideal Christmas Gift, Birthday Gift, Valentines Gift or for any occasion. Treat someone to an amazing adventure experience in Limerick & Clare.

Latest News & Updates
Find lots more info, what's been happening and what's coming up at Nevsail Watersports & Adventures with our latest news and updates.
Book Your Adventure Today